FREE: The Ultimatest Grocery Lists
This is awesome, in fact, it's The Ultimatest
Below are the best pre-formatted grocery lists ever created. I made them just for you — and they're free. Print 'em out, hang 'em on the refrigerator door and mark 'em up before you go to the grocery store. We have comprehensive versions for both meat-eaters and vegetabletarians.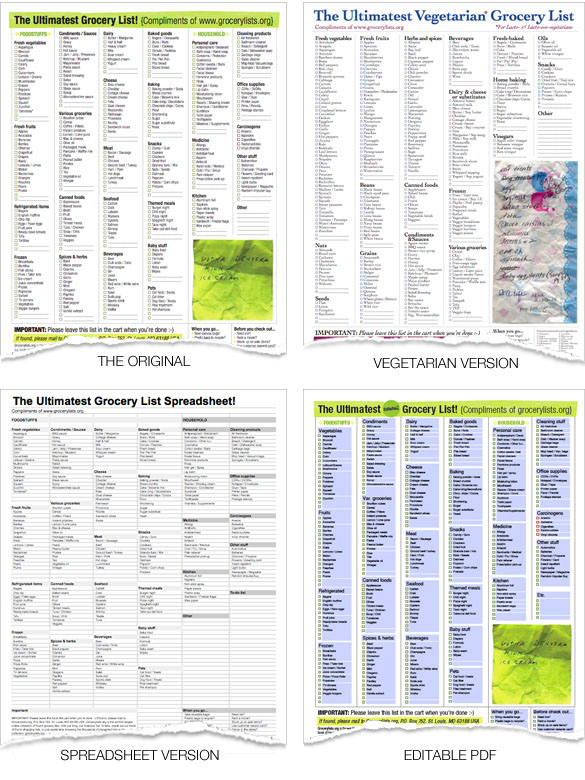 And now there are fully-editable PDF and spreadsheet versions of the Deluxe list. That means that if you don't have pets or kids, for example, you can edit those sections to be something else. If an item wasn't on my pre-formatted list, now you can add it then print it out. How awesome is that? No customer support is offered. If you want to permanently edit the customizable PDF file you will need to buy Adobe Acrobat. Otherwise, edit it as you need then print it a bunch of copies. Enjoy!
To download
Right-click the links below and choose "Save file as…", "Save link as…" or whatever. Last updated January 2013.
---
As seen in…
The New Yorker, The Wall Street Journal, Milk Eggs Vodka: Grocery Lists Lost and Found, Lifehacker, Ask MetaFilter, Woman's Day, The Mommy Journal, mothering.com, Org Junkie, StumbleUpon, Squidoo, Wikipedia, and more.
Eloquent testimonials from real people
"You r a God send!!! Thank You so much for the ultimatest grocery list!!!!! WOW"
– Angela
"I love the ultimatest grocery list. It has truly simplified my life. thank you"
– Lena
"The Ultimatest Grocery List is perfect. Thank you so much!!"
– Rose
"I wanted to let you know what a great grocery list you offer and to thank you for putting such a great list together!"
– Trisha
"Your list is fabulous!"
– Ngoza In South Africa
"This list really is the ultimatest."
– Stella
"I love your site and the lists! BTW I use your ultimatest list! It's in a plastic sleeve on the fridge and I mark what I need with erasable marker…"
– Mary
"It's the best I've found by far!!"
– Sarah
"I LOVE your free grocery list on PDF. I have used it for 5 years. Any chance you will make it an app for the iPhone? All the iPhone grocery apps pale by comparison. Those people making those apps obviously have never seen your list. It's so damn perfect, it deserves an iPhone app!!!"
– Maru
More about pre-made grocery lists
There are a lot of downloadable grocery lists out there, but none are as good as The Ultimatest. Why is this one better? Comprehensiveness. Categorization. Cleverness. Helpful clues and cues. Creativity. And… it's portable, unlike a lot of shopping list software that requires you to be in front of a computer. An early version is also featured in my book, Milk Eggs Vodka: Grocery Lists Lost and Found published by HOW Books. Milk Eggs Vodka is a strange, fascinating and hilarious look at other peoples' discarded grocery lists. Hardcover, 240 pages, full-color — it's a beautiful compilation of shopping habits, spelling quirks and good fun. Learn more about the book at www.milkeggsvodka.com.
The Ultimatest Grocery List really is the best downloadable PDF grocery list available — and it's free. Why? Because I love you. And I love it when people from all over the planet come here and get a kick out of this strange, useless, completely hilarious collection of found shopping lists. It's my little "Thank You" for stopping by. Happy shopping! But please remember the most important thing: Whether you use these PDFs or not, always leave your grocery list in the cart or the trolley when you're finished shopping!
P.S. I welcome your feedback and your suggestions. Email me and let me know how to make The Ultimatest just a little more ultimate. I'm hoping to work on some specific variations: The Ultimatest Budget Grocery List, The Ultimatest Junk Food Grocery List, The Ultimatest Vegan Grocery List, etc… If you want to help compile new variations of the list let me know!
Want to contribute some lists? Contact us!