Milk Eggs Vodka: Grocery Lists Lost and Found
OMG! There is a grocery lists book! By me!
Dear Internet,
I turned the Grocery List Collection into a book: Milk Eggs Vodka: Grocery Lists Lost and Found. It was released in May 2007 in a glorious full color hardcover edition, with 240 pages. It was republished in paperback in April 2011. HOW Books is the publisher.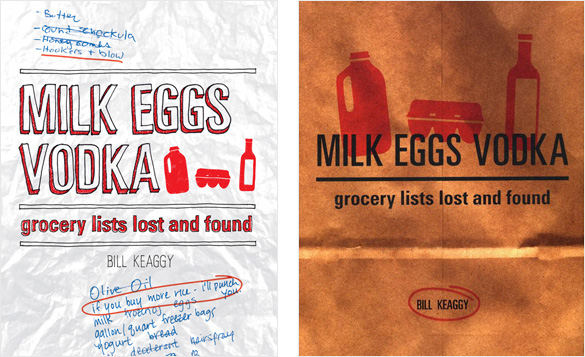 This book is a compilation of abandoned grocery lists
that have been discovered in grocery carts, market floors, and parking lots across the country. If we are what we eat, then this book reveals deep truths about the average American (not to mention more mundane truths like a surprising number of people enjoy onions, and, for most people, banana and mayonnaise are very, very difficult words to spell). Separated into chapters (funny lists, sad lists, unhealthy lists, organized lists) the book also includes snarky commentary by the author and delicious recipes created from found grocery lists. Sidebars and food facts round out the menu.
You might want to purchase it
Holy cow! You can order it on Amazon right now! You may also be get a copy at the following online stores linked below, as well as at many local booksellers.
The official site
It's milkeggsvodka.com. There you'll find a promo blog, hi-res press images, and a strange, heartwarming story about life—based on found grocery lists. I don't update that site anymore but do check out the story. Here's the official Facebook fan page.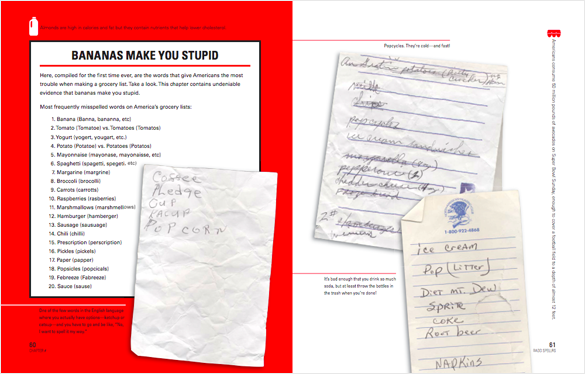 More than 300 amazing finds
The book features about 300 discarded grocery lists from all over the U.S. — and a few from around the globe. Sorted into amusing chapters (lists with poor spelling, healthy vs. unhealthy lists, lists made by elderly people or people planning parties, lists with drawings, doodles and notes on them, etc.), each list is displayed, dissected and commented on. You'll probably never leave your list in the grocery cart again.
But why collect found grocery lists? Because lists tell us a lot about our neighbors, our friends, our ancestors, our species and ourselves. Lists — especially lists of things we want and need, such as groceries — provide tiny glimpses into private lives. They're usually quite honest reflections of a person. Simple needs, amusing quirks and sundry cures for infirmities listed and checked off.
Yes, grocery lists are supposed to be private, and that's why it's so enjoyable to look through the ones that people discard — unless one of those lists happens to be yours. Then it might not be so enjoyable, because if there's one thing author I like more than finding a lost grocery list — it's making fun of it.
Other highlights
A 2,000-year-old grocery list, the most commonly misspelled words on Americans' shopping lists, delicious recipes made using only ingredients listed on other people's discarded lists, a shoplifting list and a chance meeting with Chevy Chase in the bathroom at Yankee Stadium.
And of course I will give some away free right here at grocerylists.org every now and then. Want to contribute some lists? Contact us!